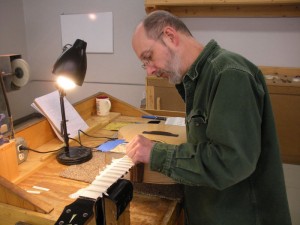 Dogwood acoustic guitars have a lifetime warranty against defects in materials and workmanship. This warranty applies to the original owner and will be honored for as long as I am actively building and repairing guitars. This warranty does not cover normal wear, damage from improper humidity or temperature, abuse, or correcting repairs performed by unauthorized persons. Finish settling or checking, fret wear, and changes in geometry are among the things that are considered normal wear.
Dogwood instruments are made using the best in materials and in a humdity and temperature controlled environment. All materials and methods are industry standard or better. I stand behind my work, and I take care of my customers! I am well-known for being a leader in customer service and if you have a problem with your guitar, I will do my best to make you happy.
Acoustic guitars are by nature rather fragile. Most of the wood used to build them is thin and subject to damage if treated improperly. Allowing your guitar to become dehydrated will lead to problems such as cracks, loose braces, bridges lifting, and excessive changes in geometry which affect playing action. These problems are almost always due to dryness or heat. A common source of the latter is leaving the guitar in a hot car or trunk. Bringing a guitar inside from the cold and exposing it to warmer temperatures too quickly can cause finish checking, which is harmless but unsightly. None of these issues are considered problems relating to defects and are not covered under warranty.
Many guitars will need a neck reset as they age. This is due to changes in geometry from string tension over time, and is not a reflection of poor quality. Gibsons, Martins, Taylors, Guilds… they can all need this adjustment eventually. Neck resetting requires skill and special tools. Dogwood guitars use a modern bolt-on mortise and tenon neck joint that makes neck resetting much easier than the traditional dovetail joint. (Taylor and other companies use a bolt-on neck for this same reason.) There is no structural or tonal compromise with this neck joint. Should your Dogwood ever need this service, please contact me for the best price.