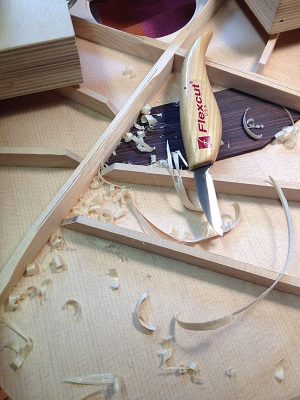 Voicing and tuning are important elements of great tone. A great guitar has great tone, great playability, and great appearance, in that order. Fancy wood, a high gloss finish, and lots of Abalone inlay are visually beautiful but have nothing to do with making a great sounding guitar.
What is voicing and tuning? In a nutshell, voicing is the process of building a guitar using carefully made decisions and techniques with the goal of shaping the tone in a specific direction. Tuning relates to the fundamental resonances and purity of the tone.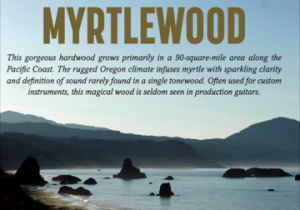 There are as many theories and techniques about how to voice a guitar as there are builders, it seems. Some try to achieve it through scalloping the braces or sanding the Spruce top to a certain flexibility. Many insist that it is the species of wood that makes all the difference. Others experiment with different bracing materials and patterns. Many luthiers tap on Spruce plates as they carve the braces, listening for the type of ring and sustain that they feel will give the right sound to the completed guitar. These ideas all have their place, but many of them are arbitrary and result in a lot of inconsistency. We've all heard guitars of the same brand, made of the same species of wood, that sound very different from each other. Other ideas simply don't hold up in the light of science and in practice.
I've had more than one hand builder tell me that mystery is part of the process and each build is somewhat like a roll of the dice. I strongly disagree with these types of statements. By carefully selecting tops with specific material properties, and tuning the top and back to specific target resonances during the building process, guitars with consistent tonal qualities are produced. And consistency is key, not only because customers want to know that their guitar will sound great but also because consistency demonstrates that the luthier is voicing with repeatable skill and not just getting lucky every once in a while!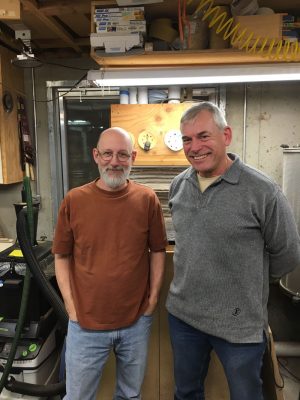 I have studied advanced voicing and tuning techniques with a couple of pioneers on the subject, including Trevor Gore, the internationally known co-author of the well-known set of books, "Contemporary Acoustic Guitar Design and Build." Gore, who holds a PhD. in Engineering, launched his own investigation into the supposed mysteries of acoustic guitar tone and has now quantified his findings in his books. His premise is simple: Guitars create tone based on how they vibrate; change the way they vibrate and you will change the way they sound. However, actually accomplishing this successfully is a learned art. I have spent many years and thousands of dollars learning to implement multiple techniques that have resulted in guitars that stand out from the crowd.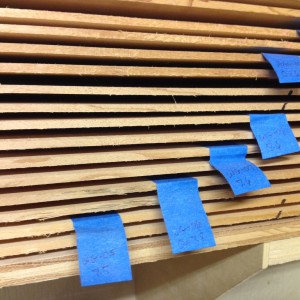 My process begins with the all-important task of measuring the material properties of potential top wood. These properties include density, modulus (inherent strength), speed of sound, and mass/square inch which related to the weight of the completed top. I will not build with wood that does not fall within the narrow range of properties I am looking for that relate to great tone. This part of my process separates me from the majority of builders who simply seek to make the best of the wood they have, rather than seeking the best wood.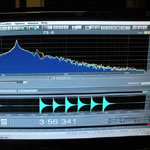 These superior tops are then thinned to a target deflection based on modulus, rather than an arbitrary number based on species, or by hand-flexing which can be different with each person. Modulus determines how thin a plate can safely be taken to, and a thinner plate along with low density will be a lighter plate. Mass (weight) damps vibration, especially in the treble register. I then tune the top plate, along with the back, to target resonances that don't fall on scale notes. All of this produces guitars with noticeably better projection, clarity, balance, and separation.
For those players who want the very best in tone and know it when they hear it, owning an individually voiced and tuned instrument is essential. There is no substitute for the skilled human hand. As the late Bill Collings said, a truly great guitar must be manipulated by human hands; something mass produced by robots and CNC machines is just a guitar-shaped object. And that's why I say Dogwood Guitars have … "Old School Tone, Down to the Bone!"