Dogwood Guitars currently offers three models: The Kingston Jumbo, the Monarch, and the Eminence. All three models feature select tops that meet stringent requirements based on their material properties. These select tops are matched with beautiful tonewoods, and are voiced and tuned to specific resonances that gives each Dogwood guitar sweet clarity and balance. Each model has a specific place in the tonal spectrum, and each can be made to suit the style and needs of the player.
All Dogwood Guitars are made one at a time, by hand, and include all solid wood construction, wood bindings, bone nuts and saddles, five-piece laminated Mahogany and Maple necks, and hand cut shell Dogwood logo inlaid into the distinctive Dogwood peghead. Please click on any of the images below to check out the specific details and to see a photo gallery of completed guitars.
This versatile guitar is the original Dogwood model and is well-suited to the singer-songwiter who desires an instrument that is comfortable to play, and that can handle everything from fingerpicked ballads to agressive strumming.
A true 17″ jumbo with a big, yet never boomy, sound that fills a room. Inspired by the iconic Gibson J-200 and the Guild JF-100, the Kingston is for those who love to play a full-sized guitar and who enjoy the stage presence such a guitar commands. Check out the Kingston page for videos of this classic in action.
Specifically desinged with the finger-style player in mind, the Eminence has a slightly reduced body depth and is voiced to bring out the chimey trebles that these players love. Well-balanced and clear, this model is sure to turn heads.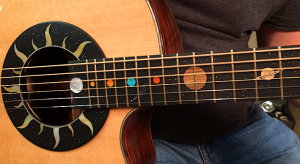 The Mazzaroth Edition Eminence
A very special Edition of the Emience model, the Mazzaroth guitar celebrates the majesty of the night sky and the message it communicates. This guitar is loaded with high end appointments- see the Mazzaroth Edition page for details and photos.