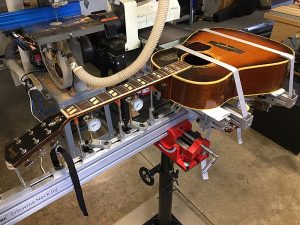 In the first two parts of this article, we have looked at basic setup services, which include setting the neck relief and string action, as well as new string installation and other basic adjustments.
We have also discussed some improvements and repairs that can greatly increase the tone and playability of your guitar, such as installing a new bone nut and compensated saddle. I explained the importance of checking the bridge plate. In this final segment, I will explain fret maintenance services.
The frets on your guitar are an integral part of how it plays and sounds. In order for a guitar to perform at its best, the frets need to be level. A high fret is a common source of buzzing. In addition to being level with each other, the fret tops should be crowned so that the strings contact just the center of the fret during play. Frets wear as we play the guitar and eventually they need to be re-leveled, crowned, and polished. This service (known as a fret dressing) needs to be undertaken by an experienced luthier who has the correct tools; a botched fret leveling is worse than a poor setup and may require a complete fret replacement job to restore the guitar to playable condition. However, doing a fret dress is a routine service for a trained and skilled luthier and it can make a dramatic difference in how a guitar plays. It is like getting a tune-up for your car; not something you do as frequently as changing the oil but is important maintenance that improves performance when it needs to be done.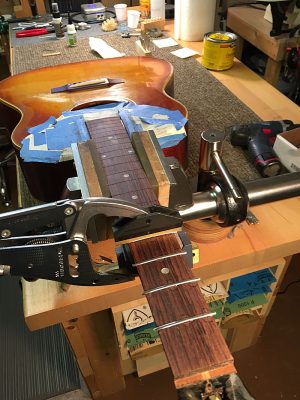 Occasionally some frets on a guitar (or all of them) will need to be replaced. This happens when there is not enough of the original fret material remaining to allow them to be leveled and polished. This may be due to a long life of use, multiple fret dress jobs over the years, or a do-it-yourself fret repair gone wrong. A qualified luthier should perform a refret job, which will include removing the old frets without damaging the fretboard. This is followed by leveling the board and installing, leveling, crowning, and polishing the new frets.
High tongue frets require special mention here. The vast majority of electric guitars that come through my shop have a high tongue, the part of the fretboard that extends over or into the guitar body. This is especially true of guitars with a bolt-on neck. The high tongue is caused by the nature of electric guitar construction, moisture in the exposed end grain on a bolt-on neck, and the pull of the strings on the neck-to-body joint.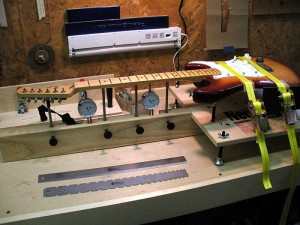 Even brand new electrics right off the store shelf typically have this problem, and is why most electrics buzz in the upper register. The best solution for a high tongue is for a luthier to re-fret the guitar, correcting the high area of the fretboard before installing the new frets. A less expensive alternative is to have a fret level performed, with special attention focused on lowering the tongue frets. Many electric owners are surprised to learn that having a setup done won't necessarily cure a buzzing problem; a high tongue is the problem. See my YouTube video on this topic for more information.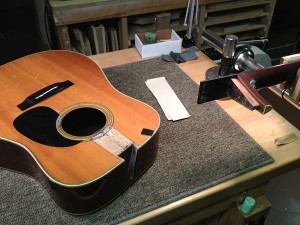 There are many other advanced repairs that a guitar may need, such as a complete neck reset to correct improper neck-to-body angle, bridge re-glues and replacements, etc. Each guitar needs to be evaluated by a skilled luthier who can tell you what the instrument needs in order to play at its best. At Dogwood Guitars I offer a free, no-obligation assessment of your guitar. Then you and I can discuss the needs and options that best suit you and your budget, as well as what is appropriate for the value of your guitar.