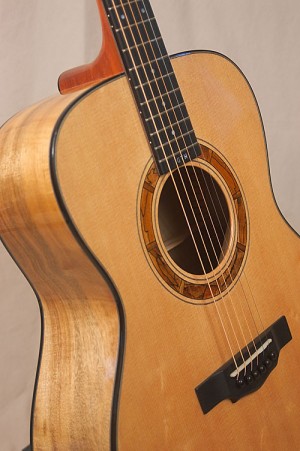 Thank you for choosing to order one of my handmade acoustic guitars. From the day we begin to design your dream guitar until the moment you first see and hear it, you are in for a fun and special time. I will work carefully with you to make sure the process is easy and the end result spectacular!
The first step in choosing the elements of your special instrument is usually a visit to the Dogwood shop, although I certainly can work with you over the phone or via Skype or email. In this meeting I can show you examples of completed guitars as well as anything currently in construction. Top sets and back and side sets of various woods are available for viewing, and we can discuss your likes and dislikes about guitar esthetics. I will also ask you about your playing style and what you consider important when you listen to a guitar.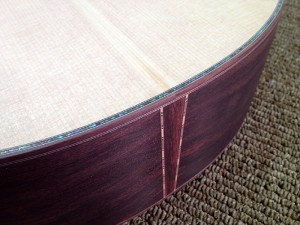 Each model has a base price that includes a set of features that can be adjusted to your liking. Of course, there are many options available that can customize the appearance of your guitar as a one-of-a-kind work of art. Some of these include select exotic tone woods, Abalone or Mother of Pearl shell rosette and purflings, various binding options, neck inlays… if you can visualize it then chances are it can be incorporated into the design. Some options are inexpensive and others can add quite a bit to the final cost. Inlay work in particular is usually an expensive option due to the high cost of shell and the time involved to design, cut, and inlay your design. But shell inlay is also some of the most beautiful decoration that can be added to an instrument.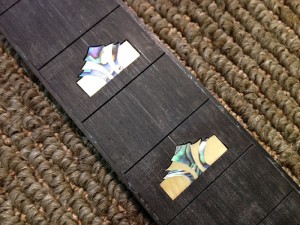 As explained in the article, "Voicing and Tap Tuning", the choice of wood for a guitar top has a profound effect on the tone of the instrument. All my top sets are subjected to dynamic and static testing to determine their properties. You won't find this option in any factory brand name regardless of cost. I will select a top for your guitar that matches your playing style and tonal expectations. All Dogwood guitars are voiced and tuned during the build process, but wood selection is the important first half of that equation.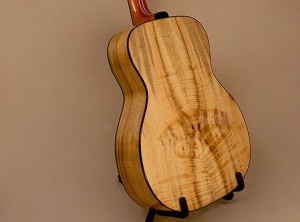 A 25% non-refundable deposit is required to establish your place in the build schedule. I will give you an estimate of when work on your guitar will begin. The full balance is due at the time of delivery. The wait time depends on your place in line as well as my setup and repair schedule, and averages 6-12 months. I do give priority to build hours for ordered guitars when accepting repair work. Progress reports and photos of the work will help you through the wait! It will be worth it.
You will find that I am very easy to work with, and I will take all the time you need to answer your questions and help you with your decisions. I have a very good eye for design and may offer alternatives to some of your choices if I feel it is warranted, but the final decisions are yours. Designing your guitar and then watching it come to life is a thrill that goes beyond words! I am looking forward to working with you and enjoying the process right along with you.
Please read my FAQ page for the answers to the most common questions.
Thanks,
Greg Maxwell
"Greg's guitars are products of an artist. I played my new Monarch guitar for a small of group friends during my interim stay in Richmond, Kentucky, before returning to Kailua, Hawaii, and the comments about the guitar were: "a beautiful work of art"; "the best sounding guitar I've ever heard"; "an amazing piece of artisanship." For me, the lucky owner, the set-up of Greg's guitars make them easy to play—even a 12-string! During my visit at Greg's shop, he let me play his Kingston Jumbo model and its powerful projection filled the room with its beautiful tone. Complimenting his art of guitar building are Greg's expertise of functional design and his sincere hospitality, making my visit to Greg's shop both an informative, welcoming experience…" –Leonard Wilson