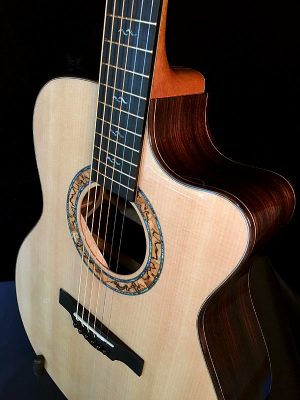 There are a lot of choices out there for the prospective buyer of a fine guitar.
It's no secret; a handmade instrument can cost a lot. For that matter, any of the better guitars purchased from a quality manufacturer is going to command what most people would consider to be a lot of money. Are there compelling reasons to spend your money on a handmade guitar from a custom builder rather than from a brand name factory or custom shop? There certainly are!
Most of the famous brands of guitars have been turned over to mass production for a long time. What began many decades ago as a labor of love by skilled artisans has become modern factory assembly line work. For many of these time-honored brands, the resulting decrease in quality is now as famous as the name. In addition, the market is full of inexpensive imported guitars made of plywood and glued with epoxy.
It has been a long time since I played a new guitar in a music store that impressed me with its tone, regardless of the name on it. To be sure, there are some fine smaller American companies where the quality of the fit and finish has been maintained and the guitars are still made by skilled craftspeople rather than by inexpensive labor. Clicking Here can redirect you to find guitars which are well made and some of them sound very impressive. And frankly, you can enjoy good music.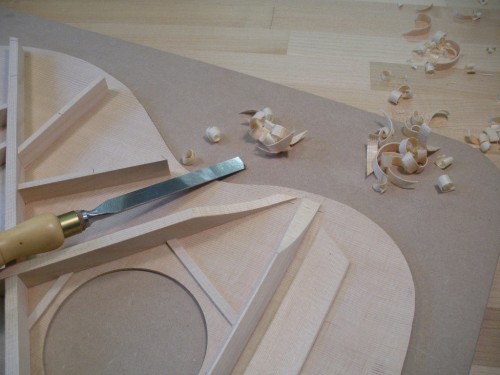 Part of the reason for this is the inability of mass manufacturers to individually voice guitars. The parts and the completed guitars are machined and assembled with consistency to a standard that in some cases is quite high but which still falls short of individuality. Bringing out the full tone of an instrument by adjusting things like brace height and top thickness, and must be done by hand for each guitar. Whether these are accomplished by instinct and feel honed from years of experience, or quantified using modern technology as some builders are doing, the result is a better sounding guitar than one which has been cookie cut in a factory regardless of how fancy it looks. As one example, the tone of many pre-war Martin guitars is famous and these are often called the Holy Grail of old acoustic instruments. Martin ceased individual voicing in the late 40's and early 50's. Buying a handmade guitar is one way of regaining the lost practice of hand voicing and tap tuning that disappeared when factory mass production became the norm. As Bill Collings has said, a factory-made guitar is more like a guitar shaped object. A guitar must be manipulated by human hands to be a truly great musical instrument.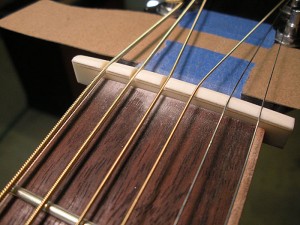 Playability is another issue worth discussing. Many brand name guitars are sent out from the factory with a higher-than-necessary action. This is often to compensate for the reality that the necks and frets are not as straight and level as they should be, and a higher action will allow the guitar to play without string buzzing. A handmade guitar from Dogwood will have a straight neck and level fretboard and frets, allowing the action at the nut and 12th fret to be set low. This results in a more comfortable and enjoyable instrument to play. Of course, you can (and should) have a factory guitar set up with leveled frets, a bone nut and saddle, and the correct action, but why not start with a correctly set up guitar to begin with?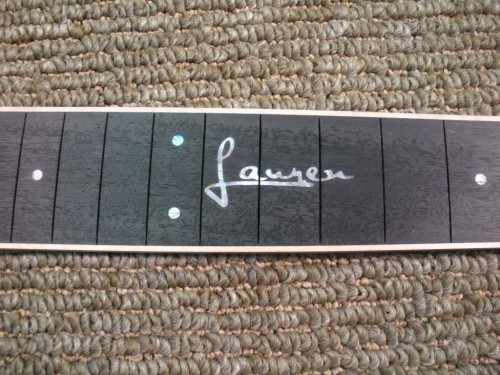 There are other factors that make buying a handmade guitar a good choice for the discriminating player. You can have the guitar customized to match your detailed needs. You can have custom inlay work done that will make your guitar a one-of-a-kind heirloom. You will be supporting a craftsperson who is investing his or her best skills into making a dream instrument for you. You will have documentation of the build process with photos showing the progress along the way. And you will have the satisfaction of owning something truly fine, a playable work of art. It will be special in a way that no factory brand can match.
While it is true that you don't buy a handmade guitar to save money, you may be surprised at how affordable one can be when compared to the factory brand upper line models. I'd be enthusiastic about talking with you to find out what your needs and wants are, and working with you to design something that you will be thrilled to own and play.
For an in-depth article about the important differences between factory made and handmade guitars, please see this article by master luthier Ervin Somogyi.