Acoustic Guitar Voicing and Tuning Class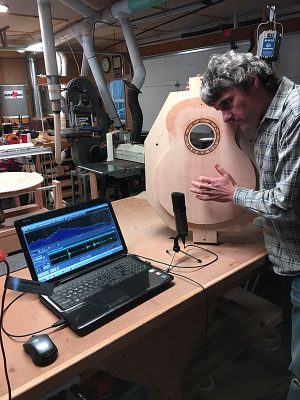 This is an advanced class that explores the principles behind great acoustic guitar tone. This class is intended for the experienced builder, and knowledge of acoustic guitar construction is essential in order to get the most from the class. The class focuses on the importance of material properties as they relate to tone and responsiveness- properties such as stiffness, density, modulus, and mass. You will learn how to thin individual tops to a specific deflection based on modulus, rather than using a predetermined thickness based on species.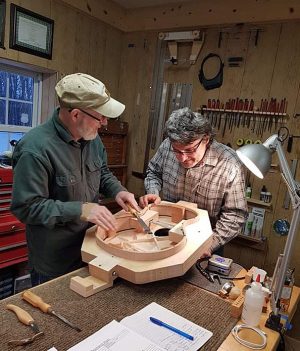 This three-day class includes instructions on placing the three main fundamental resonances- top, air, and back- to specific targets. This process helps to fine-tune the tone your guitars while avoiding wolf notes and dead spots in the completed instrument. We will also discuss how to evaluate acoustic guitar tone, and you may bring your own guitars for assessment if you wish. You are also encouraged to bring some top wood with you for measuring material properties. In-depth information on bracing and brace carving is included, as are several other tips and tricks for building better-sounding guitars.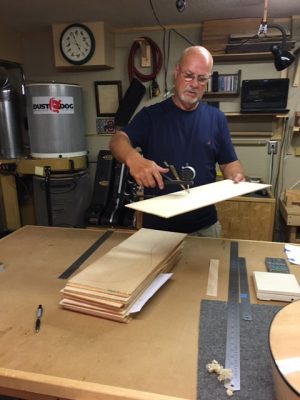 Many builders use some version of hand flexing and ear tapping to voice guitars. The results can be somewhat arbitrary and often fail to use property measurements as part of the process. Others apply a mathematical approach that, while effective and repeatable, can be difficult to learn. My method combines the best of both: Using repeatable measurements to thin tops to to a specific deflection, using analysis software to place main resonances, and ear tap-tuning for purity of tone. The result is a more accurate understanding of the science and art of voicing and tuning, more consistent and better tone in your guitars, and shaving years off of the learning curve usually required to learn these skills. You no longer have to build 100 guitars to understand how and why great guitars sound the way they do.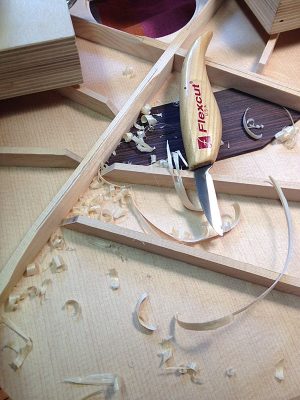 If you are not satisfied with the voice of your completed builds, if you are tired of hearing that thunky G note on the bass E string, or if you know that great tone is the result of much more than simple Rosewood Vs. Mahogany comparisons, then this is your class! Check out this recent class with Jacek Sliwa of Sliwa Guitars, Poland.
The cost of the three-day class is $1200 and includes detailed measurements and data for your own wood brought to the class. Classes are offered January through September.