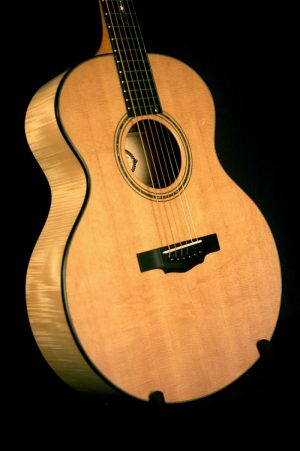 The Eminence is a Grand Auditorium sized guitar that Greg designed to provide a little extra high frequency (treble) response, along with the clear and balanced tone that all Dogwood models are known for. A slightly smaller body depth and a very stiff and light Spruce top result in bell-like clarity that is especially suited to finger style playing. The top is tuned to a specific fundamental that brings out just the right amount of bass response and warmth, without sounding boomy or inarticulate. This is a very responsive guitar!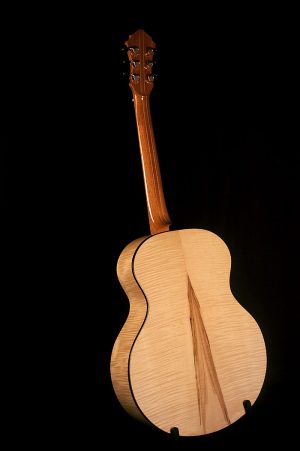 Standard features include all solid wood construction, your choice of Maple or Rosewood back and sides (other species available), wood bindings, distinctive Dogwood peghead and bridge with hand cut shell logo, a shell rosette, and a high-scoring Sitka Spruce top matched to your playing style and tonal needs. The top and back are hand-tuned to specific fundamental resonances to bring out the full voice of the tonewoods. Be sure to listen to the video below using good monitor speakers or studio quality headphones, and be prepared to be impressed!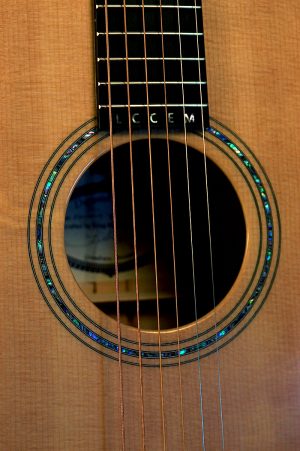 Standard Eminence Features:
all solid wood construction
figured Maple or Indian Rosewood back and sides
Abalone shell rosette with B&W outer rings
five-piece Mahogany neck with adjustable truss rod
bound Ebony fretboard
Ebony Dogwood bridge and pins with shell dots
solid wood binding with B&W purflings
Gotoh sealed chrome tuners
classic Dogwood peghead with hand-cut pearl logo
bone nut and saddle with B-string compensation
Ebony end pin and strap button
high gloss lacquer finish
hard shell case
Lifetime warranty to the original owner
The Eminence base price is $4500.00
Options are available, such as custom inlay work, custom rosettes, cutaways, and special back and side woods.
Technical information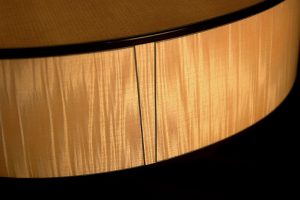 The Eminence is a 14 fret guitar with a 25.5 scale length. The bout is 16″ and the shoulder width is 11 3/8″. Body length is 2o 1/8″, depth at the shoulder is 3 1/2″. Width at the nut is 1 3/4″ and the string spacing is 2 1/4″. Fretboard radius is 16″ and the neck is a comfortable oval shape. Alterations to some of these dimensions are available at no cost.
The Eminence guitar in the photo gallery below includes all the standard appointments plus the following upgrades: Premium flamed European Maple back and sides, Ebony binding, custom Abalone shell neck inlays, and gold tuners with Ebony buttons. The customer requested a 1 13/16″ nut width, which was provided at no extra cost.
"Several years ago when I found out that Greg was starting to make hand made guitars, I knew that I wanted one. Did I need one? No, but that didn't mean I wanted it any less! This past January my wife out of the blue said I should contact Greg and order a guitar. I spoke with Greg and we talked about sound, neck size, custom inlays, even the type of strings to use. I thought at one point he would get tired of my questions as I tried to understand and comprehend everything he was telling me, and teaching me at the same time. But he was patient and very understanding. I wish to thank Greg for what I believe is the finest guitar I have heard or played. Some of you Kansas City musicians have seen it and even played it while Greg recorded you doing so. My thanks to you as well. The guitar was and is the Eminence!" Les Yost, Columbus, Ohio
Scroll down to watch a video of the Eminence being played. Hearing is believing!