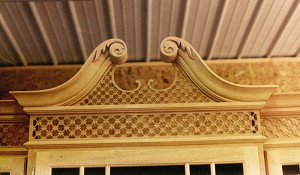 Greg owned his own custom furniture making shop from 1983 through 1996. The company was called Legacy Benchworks, and most of the work involved high end one-off custom furniture, as well as the more standard cabinetry such as kitchen cabinets and office furniture. A few of his best pieces can be seen in this article, or you can go to this web-site to have a look at other options.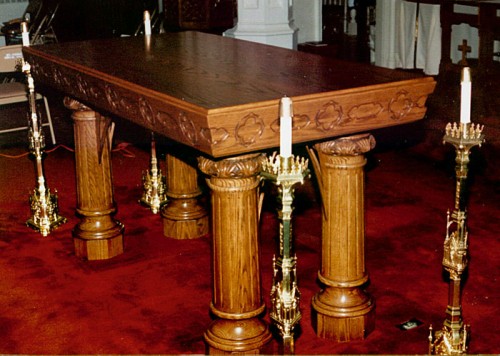 Gothic Altar
Greg made this oak altar as part of a huge restoration project of an old cathedral in Zanesville, Ohio. The turned pillars are topped with hand carved shells and the border of the altar top is decorated with Gothic tracery motifs.
Louis the 14th Armoire
This beautiful armoire is made of knotty white pine and features arched raised panel doors, turned and fluted corner columns, hand carved cabriole legs, hand carved shell and vine decoration, bonnet top, and top doors that recess into the cabinet to reveal the enclosed television and other video equipment.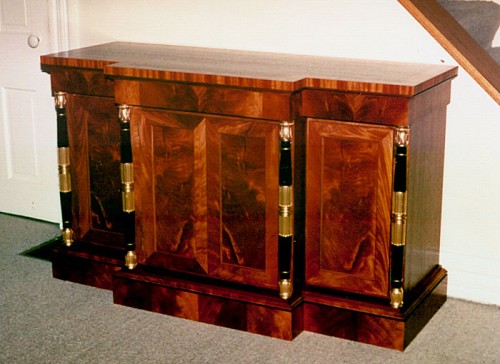 Mahogany Dry Bar
The dry bar was made from medium density fiberboard and then veneered inside and out with exotic crotch-figured Mahogany. The border around the top of the bar is ribbon Mahogany. The hand turned and carved pillars were finished with gloss black lacquer and then the carved ends and fluted centers were covered in gold leaf.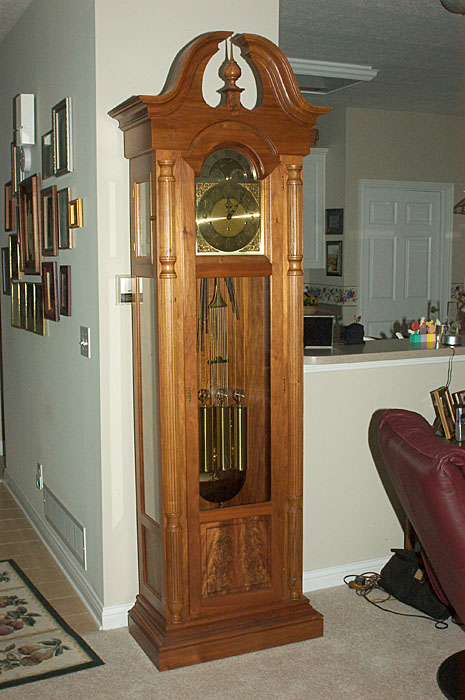 Walnut Grandfather Clock
Of all the various types of furniture made by Greg during the 1980's, the tall clocks were hands down favorites… no pun intended! The clock shown above is the first of several made. It is constructed of Walnut and has a crotch-figured panel in the door. The gooseneck moldings, center spire, and fluted corner columns are hand carved and turned. Glass side doors permit viewing of the German movement inside. The movement plays three different melodies and chimes on the hour and each quarter-hour. This clock is owned by Greg's parents and will one day return to its maker.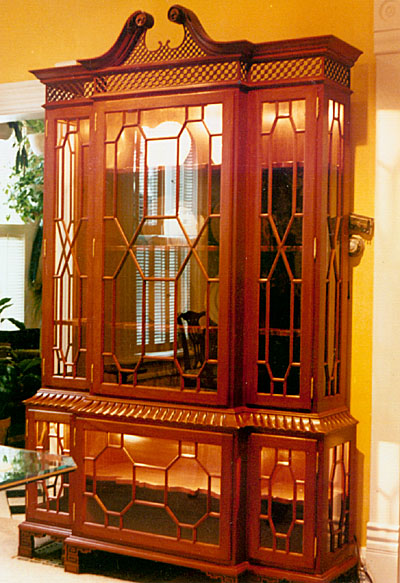 Chinese Chippendale Hutch
This amazing hutch was made for a client and was designed from a single photograph of an identical piece that is in a castle in Europe. The hutch is made in the Chippendale style and includes many Chinese motifs such as the hand carved pagoda waist trim and interlinked pattern on the feet. The hutch is constructed of solid Mahogany. Perhaps the most striking feature is the pierced top with carved gooseneck moldings that include Acanthus leaves. Even the fronts of the shelves inside have an exotic Asian flare.