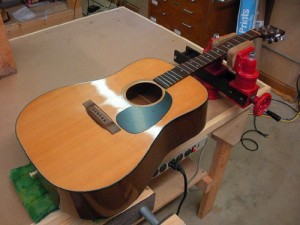 Older Martins often need substantial work to restore them to excellent playability. Recently a 1977 Martin D-18 was brought to me for evaluation. The guitar needed a neck reset, fret work, bridge plate repair, and cracks in the top repaired. A new bone saddle and nut were also recommended. This nice solid-top Martin is worth having this kind of work done, and the result will be a good-sounding instrument that is easy to play. Check out the photo galleries below for details about the work.
Neck Reset
Many older guitar need a neck reset to restore the correct neck-to-body angle. Over the years, string tension causes the top of the guitar to bend, decreasing the neck angle and causing the string action to become high. Once the saddle has been lowered as much as it can be to correct high action, a neck reset is called for. A skilled luthier can diagnose this problem and perform the work.
Pick Guard Replacement and Crack Repairs
Cracks caused by pickguard shrinkage are a very common problem on older Martins. The plastic guards were glued directly to the bare Spruce top prior to finishing, and when they shrink the Spruce top cracks. This problem is exhilarated by when guitars are not kept hydrated during the dry months of the year. This is a common and routine repair.
Bridge Plate Repair

The bridge plate is perhaps the most ignored part of a guitar, but it performs an important function; it provides a hard surface for the ball end of the strings to ride against. Without a bridge plate, the ball ends would tear up through the soft Spruce top. The plate (located inside the guitar underneath the bridge) is also an important part of the transfer of energy from the strings to the top. Over time, incorrectly stringing a guitar causes damage to the plate and eventually it must be repaired. This damage is preventable with correct stringing technique.