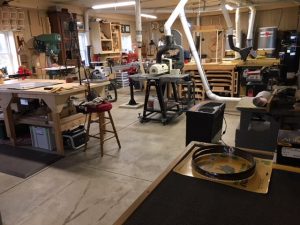 Greg loves teaching guitar building and repair as much as he loves building guitars himself.
Although not currently taking on an apprentice, Greg is offering individual classes in three areas: Acoustic and Electric Guitar Setup and Repair, Guitar Building, and Voicing and Tuning Acoustic Guitars. You will learn in a relaxed atmosphere from an experienced and meticulous craftsman and custom builder.
NOTE: These classes are scheduled as requested by students. There are no set times or dates for specific classes; you may schedule a class at your convenience and Greg's availability. Please contact Greg to discuss setting up a time for your desired class.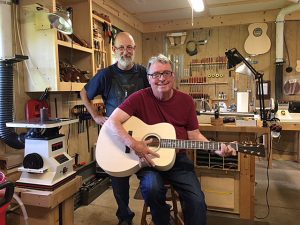 Guitar Building: Two Week Class Build a high quality acoustic guitar from scratch in two weeks! Whether you are a novice or have some building experience, you will learn a lot about all aspects of guitar building as you work one-on-one with an experienced builder. Please visit this page for details.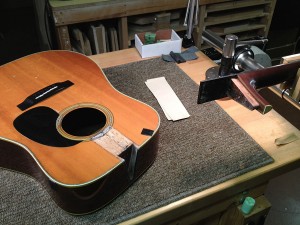 Guitar Setup and Repair Whether you want to learn electric or acoustic guitar setup and repair, these classes are for you. You choose how many hours or days you want to spend in the shop, and which topics you want to focus on. Potential topics include in-depth setup techniques, fret work, bridge and bridge plate repairs, neck resets, basic wiring and soldering techniques, and crack and brace repairs. Please visit this page for all the details.
New! Greg has released an online setup, repair, and restoration course, available at obrienguitars.com. Check out the introductory video here.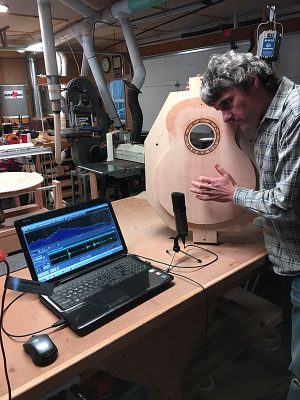 Steel String Guitar Voicing and Tuning Most guitar builders know how to build a guitar that holds up structurally. Many know how to build an esthetically beautiful gutar. Very few understand the principles involved in consistently building exceptional tone into their instruments. This class explores the fundamentals of wood selection, and demonstrates how to voice and tune these select tops and backs for the best responsiveness and tone. Please visit this page for details.