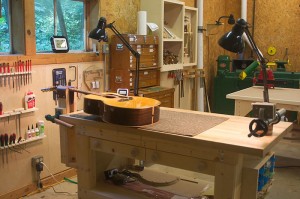 Dogwood Guitars is a full-service setup and repair shop. We are equipped to handle all of your acoustic and electric guitar adjustment and repair needs. The prices listed below are labor estimates and do not include parts such as new strings, bone blanks, fret wire, etc. I give free no-obligation evaluations of any guitar so that you can make an informed decision about your instrument and its care. Guitars are like cars; they need some routine maintenance to perform at their best.
Labor Estimates for Setup and Repair Work, current for 2021 (parts not included)
ACOUSTIC GUITAR WORK
Free Evaluation…….no charge
I'll give your guitar a thorough inspection inside and out, letting you know what is correct and what may need attention now or in the near future. Frets, neck, action, bridge and bridge plate, truss rod, tuners, and internal bracing are some of the things that are assessed. This service is provided as a courtesy to my customers and there is no obligation or pressure to buy anything.
Acoustic Guitar Setups
Most acoustic guitars will benefit from an annual setup, and instruments that are kept in less than ideal climate conditions (or that are on the road a lot) may need two per year. I'll evaluate your guitar and make a recommendation. Setups may include truss rod nut lubrication and adjustment, saddle lowering to adjust action, nut slot adjustments, cleaning of grimy frets and fretboard, adjusting tuners, installing new strings, and checking electronics and batteries. Price is based on what your guitar needs. The price range is for labor and does not include parts costs such as strings and bone nut and saddle blanks.
NOTE: On some guitars, fret work may be needed in order to reduce or eliminate buzzing. Fret work is not included in a setup; see prices for fret work below.
Acoustic Guitar Setup ………………………………….45.00-65.00
New Bone Nut, 6 string………………………………..90.00
New Bone Nut, 12 string……………………………..150.00
New Bone Saddle, basic ………………………………40.00
New Bone Saddle, compensated……………………55.00
New Bone Saddle, Vintage Martin Style…………75.00
Acoustic Repair Work
Bridge Re-glue, basic……………………120
New Bridge, Martin style………………195.00 (Includes making, slotting, and installing)
Bridge Plate Repair………………………65.00
Re-glue Loose Brace…………………….35.00
Repair Top or Back Crack…………….45.00+ (does not include any finish work)
Repair side crack…………………………90.00+ (does not include any finish work)
Broken Peghead Repair………………..65.00+ (does not include any finish work)
Neck Re-set…………………………………350.00 and up, USA made brands
ELECTRIC GUITAR AND BASS WORK
Setting up electric guitars and bass guitars can include truss rod lubrication and adjustment, bridge height and radius adjustment, setting intonation, adjusting tuners, and adjusting the nut slots for correct action at the first fret. Restringing and cleaning and polishing of the fretboard and frets is also included.
NOTE: Due to the nature of electric guitar construction, it is extremely common for these instruments to need fret work to play well. 80% or more of electrics, especially those with bolt-on necks, have high frets in the tongue area that must be addressed in order to play without excess buzzing. This includes most new electric guitars right off the shelf. Please see the section below for fret work pricing.
Electric Guitar Setup, hardtail models ………………………………….65.00
Electric Guitar Setup, Strat style floating tremolo ………………….90.00
Electric Guitar Setup, Floyd Rose style floating tremolo …………120.00
Volume and Tone Pot, and Switch Cleaning…………………………..5.00 per pot
Replacing pots, pickups, etc…………………………………………………60.00/hour
Bass Guitar Setup, basic…………..$65.00
New Bone Nut, 6 string…….$90
New Bone Nut, 12 string……150.00

Fret Work For Acoustics and Electrics

Many guitars (even new guitars) need the frets leveled in order to play cleanly with low action. Most electric guitars with bolt-on necks come from the factory with high tongue frets. Doing great fret work is a learned art, and I guarantee that you will be happy with mine. All my fret work jobs are performed with the guitar mounted in a neck jig that simulates string tension. This allows very accurate work. Re-fret jobs include leveling the fretboard if needed.
Fret Dress…………………………………………………….120.00
A fret dress includes leveling all the frets, re-crowning, and polishing of the frets and fretboard. Often this service is needed even on new guitars in order to set them up to play their best.
Complete Re-fret………………………………………..400.00 Includes leveling of the fretboard
Complete Re-fret plus refinishing Maple fretboard…………$500
Partial Re-fret (requires a fret dress) ……………….15.00 per fret plus 120.00 for fret dress
Loose Fret Ends, per fret…………………………………5.00
High Fret Leveling, per fret……………………………15.00 If more than a couple of frets are high, a complete leveling is needed
Labor Policies
Shop Hourly Rate is $60.00 per hour. Since each guitar is unique, prices quoted are estimates and may be adjusted based on actual time involved. A final price will be submitted prior to actual work and price may need to be adjusted in the case of repairs that get more involved as the work progresses. (Please see the article on the 1975 Gibson Hummingbird for a good example of this.)
Rush jobs may be charged extra pending current workload. Generally I can perform setups and fret dress jobs in 1-3 days. Other services may take longer. I always try to meet the scheduling needs of my customers if possible. Please call or email me to discuss your guitar and to schedule a drop-off. I look forward to serving you!
Greg Maxwell
Phone: 614-348-2147 Monday thru Saturday – 8AM-5 PM Eastern Time, text or call
To send an email, please use the Contact link in the main menu, thanks!