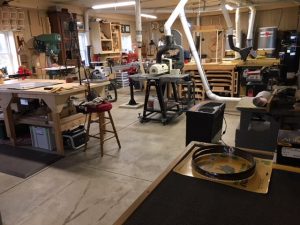 Guitar Building Class
Have you ever wanted to build your own high quality acoustic guitar, but were intimidated by the amount of tools, jigs, and skills involved? Here is your opportunity to work one-on-one with an experienced professional luthier and builder to make your own guitar in beautiful rural Knox county Ohio.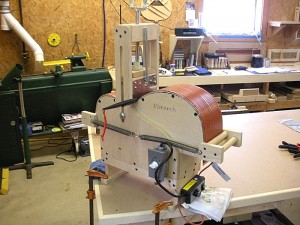 The class is two weeks in length for a total of twelve days in the shop. At the end of the class you will have a completed all-solid wood acoustic guitar "in the green", strung and playable and ready for finish. You can take it home and finish it yourself, or leave it at my shop for a professional high gloss lacquer finish for an additional cost. We will build a student version of my Monarch model, with Rosewood or Maple back and sides, a Sitka Spruce top, laminated Mahogany neck, double action truss rod, bone nut and saddle, Ebony or Rosewood fretboard and bridge, bone nut and saddle, wood bindings, and sealed Gotoh tuning machines.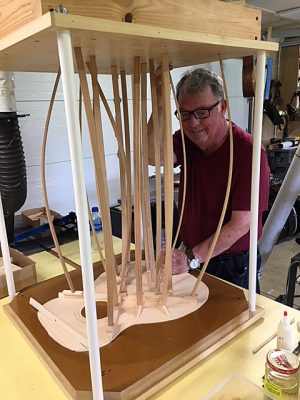 You will learn all the fundamentals of guitar construction, such as side bending, plate joining, rosette making, neck carving, fretting, and setup. We will cover the basics of voicing and tuning including placing resonances to avoid wolf notes. Learn how to bind a guitar with wood (not plastic) bindings, and how to make a bolt-on mortise and tenon neck joint. We will make a bone nut and saddle for your guitar from scratch. Depending on your skill level and meeting our daily work schedule, we may even have time for a lesson on pearl cutting and inlay.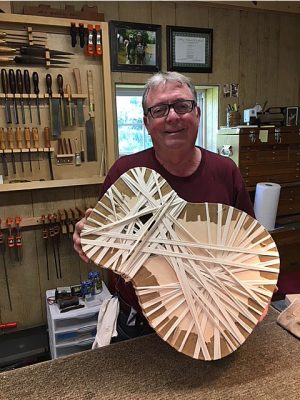 Classes of this depth often run $4000 to $6000 plus materials. You can build a guitar with me in two weeks for $3000 plus materials (approximately $600-$700 depending on a few options and including a laminated Mahogany and Maple neck.) There are several hotels located nearby. John Glenn International Airport (CMH) is located about an hour away from the shop, which is near Mount Vernon, Ohio. During your time in the evenings and on Sunday, the 14-mile paved Heart of Ohio bike and hiking trail runs along the rear edge of the property with direct access to the trail.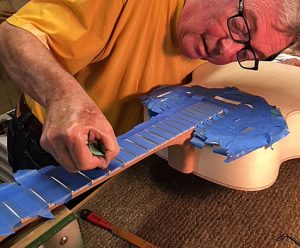 Whether you are a complete novice or a craftsman with experience, you will come away from the class with new skills, a good working knowledge of guitar construction, and some awesome memories. And, a great guitar that you can proudly play for many years! Contact me at 614 348-2147, or via the Contact Page, for details about reserving your class for 2018 and 2019. Classes are available from March through September this year. I look forward to discussing your build with you.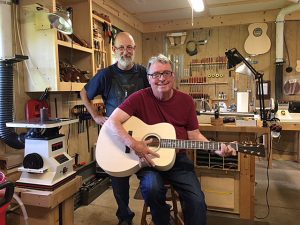 Student Testimonial
I recently completed a rewarding two week twelve day deep dive into guitar building. The course was taught by Greg Maxwell of Dogwood Guitars in Mt. Vernon Ohio. "Course" is inadequate to describe this skill and technique refining experience. I left the intense two week build with a beautiful rich sounding Student Dogwood Monarch guitar and the skills and knowledge to complete my first high quality solo build at home.
I have been a hobbyist woodworker/furniture builder for over 35 years. I wanted to take my hobby in a new challenging direction by building guitars. I consider myself a novice instrument builder. Greg's laser focus on the quality of the sound produced by his guitars is what sold me on his program. Respecting the wood is the foundation of all of Greg's guitars. His many advancements in building, voicing and tuning the guitar were shared in detail.
Greg is an excellent teacher. His dedication and sense of humor enriched the experience. The goals for each day were clear. Each technique or skill was demonstrated clearly before I carried out the operation. Greg was patient but persistent in making sure outcomes for each part of the build met his standards.
I recommend without reservation Greg Maxwell's guitar building course.
Tom Stone, Cleveland, Ohio
FAQ's
Can I design my own peghead shape, body style, etc? For the sake of time and to stay focused on the fundamentals, we will build a student version of my Dogwood Monarch model. The student version has a standard OM style peghead shape, pearl fretboard position markers, Maple binding with bwb purflings, and a Herringbone rosette with bwb rings. If there is time, we may be able to do a simple shell inlay on the peghead. Customizations are limited to your choice of Maple or Rosewood back and sides, and nickel or gold tuners.
What are the finish options? Your guitar will be completed "in the green" and ready for finish. You can take it home with you to finish yourself, or if you prefer I will apply a high gloss lacquer finish for you at a cost of $500. I can discuss various finish options you can apply as part of the class.
Are cases available? I can have a Roadrunner molded ABS case available for purchase, or you may bring your own case. Check with me for dimensions as you are responsible for the guitar fitting your case.
Can I supply my own materials? The bulk of the materials for your class guitar will be ordered from Luthiers Mercantile Int. and shipped to my shop in advance of your class date. The materials and supplier have been selected to ensure that you will have quality experience. Students are strongly discouraged from bringing their own materials.
How is this different than building a kit? This is not a kit! We will begin with a stack of raw materials, similar to those I use when I build one of my custom Dogwood models. We will cut out parts, bend sides, shape braces, cut a rosette, carve the neck, make the fretboard, bridge, nut, and saddle from blanks. Furthermore, you will have access to all the tools and jigs required to build a guitar, things you will still need to buy when attempting to assemble a kit.
Will I build the guitar myself? We will work together, one-on-one, through each step of the build. In some cases, I will demonstrate a technique and then you will repeat it. Your experience with power and hand tools will dictate the level of your safe participation, but even complete novices will have plenty of hands-on time.
Can I split up my two weeks? Yes. Although it is recommended that students schedule their two weeks together if at all possible, the class can be divided up into two two-week sessions scheduled according to my availability. While there is some overlap, the first week focuses on the guitar body, the second on the neck and final assembly. If you need to split your two weeks, I'll store your work in my climate controlled shop until your second session. All classes need to be completed by the end of September.