I build guitars, not because the world needs more guitars but because the world needs guitars with better tone. My guitars are made one at a time using carefully selected tops that have been tested for sonic superiority using a cutting-edge computer-assisted process. These tops are matched with beautiful select tonewoods to make extraordinary guitars that are both beautiful and responsive. You'll hear the clarity and balance that results from my computer-assisted voicing process. Custom rosettes and shell inlay are available to make your Dogwood Guitar a one-of-a-kind instrument.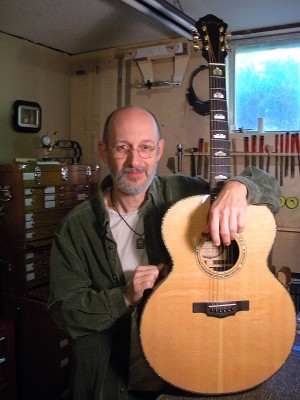 All my guitars feature specially graded tops, carefully selected side and back woods, solid wood bindings, custom Dogwood peghead and bridges, hot hide glue construction (the traditional luthier's glue known for excellent tonal transfer properties and strength), and bone nuts and saddles. I use nitrocellulose lacquer for a high gloss traditional finish that won't dampen tone. Each guitar is hand voiced and tuned using a combination of ear and software, making the process both art and science.
I have over 30 years worth of high end woodworking experience and I've played guitar both on stage and in the studio since high school. I have a passion for excellence and while I love a beautiful guitar my first priority is tone. After all, anyone with the right tools and some skill can make a pretty guitar, but if the tone is average its just another guitar. I studied under Bryan Galloup with a special focus on learning what makes a great guitar (or an average one) sound the way it does. My quest is to make your Dogwood guitar the standout in your collection, both in appearance as well as in responsiveness, clarity, balance, and depth.
Greg Maxwell