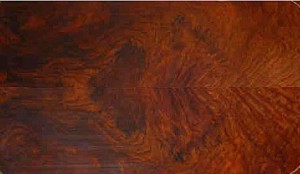 Fine wood is the heart of every Dogwood guitar. Greg has been collecting rare and highly figured wood for over three decades, and he is always on the lookout for the best sets of both top and back/side wood for his custom guitars. Exotic wood of the traditional guitar making species is getting much more difficult to obtain, so the process of searching out and obtaining the rare and elusive is a never ending task. This passion for exceptional wood is part of the reason that Greg builds custom guitars.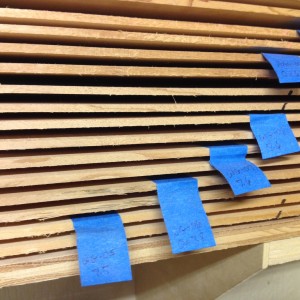 Perhaps the most difficult part of this search is obtaining Spruce for guitar tops that meet stringent requirements. This entails far more than simply buying so-called master grade top wood. This designation may mean several things, including grains per inch, lack of runnout, amount of quarter to the end grain, and overall appearance. These qualities may be good places to start, but they do not guarantee that the top will have the material properties that make a great top: Low density and high modulus (stiffness). By carefully testing for top sets having these material properties along with the aesthetic considerations mentioned above, Greg is able to build the voice and tone into your guitar that will make it a standout in your collection.
Although tone is always the primary consideration at Dogwood, the elegance and beauty of the finished instrument is never compromised. Many kinds of exotic and domestic tonewoods are available for use, and you may select from the various back and side sets Greg has on hand. Or, you can discuss your ideas with Greg and he will work hard to obtain something special and unique for you.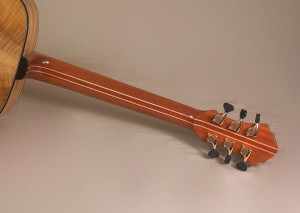 The necks for all of the standard Dogwood models are made from laminated five-piece Mahogany blanks using Maple stringers. Laminated necks are not only stronger and more resistant to warping than solid necks, they are also more visually appealing. You may also order a custom laminated neck with your own choice of wood for the stringers and center strip.
As many are aware, obtaining solid black Ebony from Madagascar is now almost a thing of the past. Neck and bridge blanks are now generally made from other more readily available Ebony species that have lighter colored streaks. Factories are dying their fretboards and bridges black as standard operating procedure to compensate for the shortage of good black Ebony. Greg is always working to obtain the best blanks for his Ebony Fretboards and bridges.