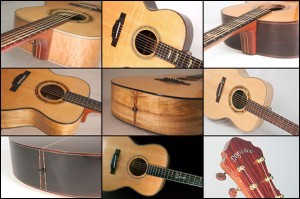 The guitars featured in these photo galleries are just a few examples of Greg's work. As a long-time high end furniture maker, Greg has a real passion for tools and figured wood. His guitars reflect these twin loves with their beautiful wood choices, impeccable hand work, and high gloss finishes. Click the photos below and enjoy the galleries, taking time to appreciate the tasteful design elements, hand-cut pearl and Abalone shell inlays, custom rosettes, and stunning craftsmanship. For more details about individual models and ordering, please visit the dedicated pages in the drop-down menu.
"October Morning" Rosewood Monarch with Cutaway
This classy Monarch sounds as good as it looks, with clear, balanced tone, great projection, and grand piano bass. The guitar is made from Indian Rosewood, select Sitka Spruce top graded for superior material properties related to tone, solid Rosewood bindings, and an Ebony fretboard and bridge. The radial segmented rosette is made from spalted Maple and bordered by two rings of Abalone shell. The back and end are inlaid with spalted panels bordered by black and white mitered purflings. Spirit theme Abalone fretboard inlays. Hand cut shell logo for the peghead. EVO Gold frets. Voiced and tuned for concert-quality tone, a finger style player's dream guitar.
"Golden Glory" Quilted Maple Eminence
A premium set of quilted Big Leaf Maple and a custom segmented Rosette made from spalted Maple and Cocobolo rings make this Eminence a real delight for the eyes. The fretboard, bindings, and peghead overlay are also made from Cocobolo wood. Gold Gotoh tuning machines provide smooth tuning, and EVO Gold frets. As with all Dogwood guitars, the Spruce top was hand-selected for specific material properties related to clear, balanced tone. A computer-assisted voicing and tuning system makes sure that the major fundamentals are tuned to complimentary notes while avoiding wolf notes and dead areas.
The Mazzaroth Guitar
This one-of-kind special edition of the Eminence model was conceived many years ago, inspired by a guitar that luthier Steve Klein made for Dan Peek. Peek was a founding member of the group America and the Klein guitar was featured on America's Harbor album. The guitar features a spectacular sun flame rosette inlaid with gold Mother of Pearl and the stars of the Mazzaroth. (The Mazzaroth is the ancient Hebrew name for the group of constellations that make an annual orbit around the earth. It is what we now call the zodiac.)
There are almost too many high end appointments and adornments to mention. Gold Mother of Pearl purflings border the entire guitar, including the top, back, sides, fretboard, and peghead. An exhibition grade Cocobolo set was used for the back and sides, and a premium Sitka Spruce top with superior tonal properties was used for the soundboard. Black Walnut burl covers the rear of the peghead, and engraved Waverly tuning machines offer unmatched elegance. The planets of our solar system make up the fret position inlays, and most of the major constellations of the northern hemisphere are inlaid into the Ebony fretboard. Actual star charts were used for all the star inlays on the guitar. Even the peghead detail and the interior label are unique to this guitar. The neck was hand-carved from fiddleback Mahogany, laminated with curly Maple. Solid wood Cocobolo bindings were used. Available by Special Order
To see a large photo gallery of the design and building of this guitar, please follow this link: Mazzaroth Build Gallery