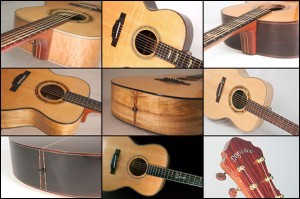 The guitars featured in these photo galleries are just a few examples of Greg's work. As a long-time high end furniture maker, Greg has a real passion for tools and figured wood. His guitars reflect these twin loves with their beautiful wood choices, impeccable hand work, and high gloss finishes. Click the photos below and enjoy the galleries, taking time to appreciate the tasteful design elements, hand-cut pearl and Abalone shell inlays, custom rosettes, and stunning craftsmanship. For more details about individual models and ordering, please visit the dedicated pages in the drop-down menu.
Eminence, Flamed Koa

This beautiful guitar was commissioned and co-designed by a customer in California. It features flamed Koa back and sides with blue purflings throughout, Abalone moon phase fretboard inlays with turquoise stone accents, spalted Maple rosette with Abalone and turquoise highlights, spalted Maple end wedge with Abalone and turquoise highlights, Waverly tuning machines with Koa knobs, and EVO Gold fretwire. A custom peghead inlay completed the design.
Kingston Jumbo, Figured Myrtle
This guitar was commissioned by a repeat customer who owns one of my 12 string Monarchs. It features a beautiful set of highly figured Myrtle, Sitka top, Ebony bindings, triple ring Abalone shell rosette, "Spirit" fretboard inlays, and a five-piece Mahogany and Maple neck. My jumbo tops are tuned a bit lower than other models, producing a deep clear bass response without sacrificing sweet trebles or clarity. This piece of functional art is great for both strumming and picking.
"October Morning" Rosewood Monarch with Cutaway
This classy Monarch sounds as good as it looks, with clear, balanced tone, great projection, and grand piano bass. The guitar is made from Indian Rosewood, select Sitka Spruce top graded for superior material properties related to tone, solid Rosewood bindings, and an Ebony fretboard and bridge. The radial segmented rosette is made from spalted Maple and bordered by two rings of Abalone shell. The back and end are inlaid with spalted panels bordered by black and white mitered purflings. Spirit theme Abalone fretboard inlays. Hand cut shell logo for the peghead. EVO Gold frets. Voiced and tuned for concert-quality tone, a finger style player's dream guitar.
"Golden Glory" Quilted Maple Eminence
A premium set of quilted Big Leaf Maple and a custom segmented Rosette made from spalted Maple and Cocobolo rings make this Eminence a real delight for the eyes. The fretboard, bindings, and peghead overlay are also made from Cocobolo wood. Gold Gotoh tuning machines provide smooth tuning, and EVO Gold frets. As with all Dogwood guitars, the Spruce top was hand-selected for specific material properties related to clear, balanced tone. A computer-assisted voicing and tuning system makes sure that the major fundamentals are tuned to complimentary notes while avoiding wolf notes and dead areas.
The Mazzaroth Guitar
This one-of-kind special edition of the Eminence model was conceived many years ago, inspired by a guitar that luthier Steve Klein made for Dan Peek. Peek was a founding member of the group America and the Klein guitar was featured on America's Harbor album. The guitar features a spectacular sun flame rosette inlaid with gold Mother of Pearl and the stars of the Mazzaroth. (The Mazzaroth is the ancient Hebrew name for the group of constellations that make an annual orbit around the earth. It is what we now call the zodiac.)
There are almost too many high end appointments and adornments to mention. Gold Mother of Pearl purflings border the entire guitar, including the top, back, sides, fretboard, and peghead. An exhibition grade Cocobolo set was used for the back and sides, and a premium Sitka Spruce top with superior tonal properties was used for the soundboard. Black Walnut burl covers the rear of the peghead, and engraved Waverly tuning machines offer unmatched elegance. The planets of our solar system make up the fret position inlays, and most of the major constellations of the northern hemisphere are inlaid into the Ebony fretboard. Actual star charts were used for all the star inlays on the guitar. Even the peghead detail and the interior label are unique to this guitar. The neck was hand-carved from fiddleback Mahogany, laminated with curly Maple. Solid wood Cocobolo bindings were used. Available by Special Order
To see a large photo gallery of the design and building of this guitar, please follow this link: Mazzaroth Build Gallery
Eminence, Figured European Maple with Ebony Bindings
This build is the first example of the new Eminence model introduced in 2016. The Eminence was designed for a clear and articulate high frequency response, making it particularly well-suited for finger style playing. The top and back are hand tuned to specific fundamental resonances for just the right amount of warmth and bass response with no muddiness. The guitar seen here has a 1 13/16″ nut width requested by the customer as well as custom inlays that include the family initials below the last fret. You can see a video of this guitar being played by visiting the Eminence model page.
Rosewood "Inheritance" Monarch
Build during the summer and fall of 2015, this custom Monarch was made for worship leader and recording artist Jordan Marcotte. Hand made from premium Indian Rosewood and a tested, high scoring Sitka Spruce top, the guitar features an Asian Satinwood burl rosette and the word "Inheritance" inlaid into the Rosewood fretboard using hand cut Abalone shell. The guitar also features mitered purflings at the center and end strips. The sound is clear and articulate with great warm bass and sparking treble.
Kingston Jumbo, Indian Rosewood
The Kingston is an impressive guitar with a big voice and high end appointments, such as Abalone and gold Mother of Pearl inlays and body purflings. The pickguard is hand cut from a poured resin called Tor-toise that is vastly superior to the printed plastic guards on most guitars.
Monarch 12 String, Myrtle wood with Spalted Maple Rosette
This commissioned 12 String will make it's home in Hawaii. Completed in May 2015, it is made from figured Myrtle wood. The top is Sitka Spruce, and the fretboard, bridge, and bindings are Ebony. The rosette is made from spalted Maple segments with Ebony dividers. The end wedge is made from spalted Maple, and the gold tuners with black buttons give this guitar a classy and distinctive appearance. The petite fretboard inlays are of gold Mother of Pearl, as is the hand cut Dogwood logo in the peghead. This guitar has the full, clear tone you would expect from a Dogwood, with the added sparkle of a 12 string.
Monarch in Premium Quilted Maple and Cocobolo
One of my favorite woods is heavily figured Maple, and the premium back and side set used in this Monarch doesn't disappoint! Combined with a Cocobolo fretboard, bridge, headplate, and a spalted Maple rosette, this guitar makes a stunning visual presentation. Gold-plated Waverly tuners with Snakewood buttons complete the statement. At Dogwood Guitars, tone always reigns supreme, so this guitar sounds as good as it looks. The select Sitka top has been voiced and tuned to provide clear, ringing tone with balance, clarity, and depth. This guitar is available for purchase, please contact me for more information.
Monarch in Oregon Myrtle
Flamed Myrtle wood from Oregon, combined with Ebony binding, fret board, and bridge, plus a segmented spalted Maple rosette all add up to one beautiful guitar. The Sitka Spruce top was selected for its superior sonic properties prior to building, and it was then voiced and tuned using a cutting edge computer-assisted process that combines art and science. The result is clear balanced tone, great projection, with fat treble and great bass response without the typical mid-range muddiness common to factory made brands. This is the first build to be produced in the Kansas City shop, and it was purchased in mid-production. The wood for the rosette has been in my possession since 1983. Gold Gotoh tuners with Ebony buttons add the final touch of class to this instrument.
Kingston Jumbo in Rosewood
The Kingston is a full-sized true jumbo with a big sound and the old school tone that Dogwood guitars are known for. The instrument in this gallery features a premium set of extra-dark, straight-grained Indian Rosewood, Abalone rosette and top purfling, gold Mother of Pearl and Abalone fretboard inlays, and a high scoring Sitka Spruce top for great tone, volume, and clarity.
Monarch in Figured Blister Maple
The guitar in this gallery features figured Maple back and sides, solid figured Maple binding on the body and neck, black and white body and neck purflings, a select voiced and tuned Sitka Spruce top, five-piece solid Mahogany neck with Maple stringers, bone nut and B-compensated saddle, and pearl logo and fret position markers.
Monarch in Quilted Maple
This is one stunning guitar! Commissioned by a Taylor Swift fan, this instrument features a neck inlay with the owner's name inlaid using the same font as Taylor's guitar. Other upgrades include a quilted Maple back and side set, Abalone shell inlays and fret postion markers, and gold plated Gotoh tuners. A fully voiced and tuned Sitka Spruce top and an L.R. Baggs Active Element pickup will make Lauren's guitar stand out sonically, and the appointments will make both her and the guitar the center of attention on stage.
Monarch in African Mahogany
This commissioned guitar was made from a very nicely figured set of African Mahogany. Originally intended to make neck blanks, the load of Mahogany turned out to be much too figured for neck wood and it was processed into back and side sets. This guitar features contrasting figured Maple wood bindings on the body and neck, along with black and white purflings. Mahogany is a traditional instrument wood in part because of its ease of working and taking a fine finish. A faux tortoise pickguard and Rosewood fretboard and bridge give this guitar a vintage look, and the sound is clear and warm. An L. R. Baggs Active Element pickup was installed. Due to the new owner arriving from out of state to pick up the guitar very shortly after completion, the photo shoot had to be done quickly.