As a high end artisan woodworker of over 30 years, Greg's passion for excellence is a hallmark of his instruments. Every Dogwood guitar reflects this dedication to fine craftsmanship. All the skills required to make exceptional high end guitars- perfect joinery, harmonious design elements, flawless high gloss finishes- have been acquired the slow, hard way… through years of painstaking attention to detail, of being one's own worst critic, and the cultivation of persistence and perseverance.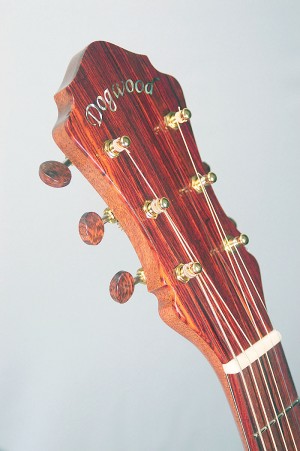 There are many design trends among modern hand builders of guitars. Some are tasteful and exquisite, some are ultra modern, and a few are rather garish. Greg is a traditionalist and his designs reflect his love of vintage instruments. The unique Dogwood peghead, for example, with it's hand cut shell inlay, evokes memories of a bygone era when craftsmen considered details like a distinctive peghead to be part of their signature. Greg designed his peghead with this tradition in mind, rather than following the modern trend toward simple, reduced (and easy to make) designs. Putting in the time and effort to shape the Dogwood peghead is just one of many labors of love that go into each of Greg's guitars.
As committed as he is to traditional construction methods and design elements, Greg is also quick to embrace new technology that has led to a better understanding of guitar tone. Anyone with the right tools and skills can make pretty guitars; consistently building great sounding guitars is a more elusive accomplishment. Greg uses a cutting edge, computer-assisted process to test and select the top for each guitar. These select tops are then voiced and tuned for exceptional clarity and balance.
In these days of mass produced goods, discerning craftsmen such as Greg are becoming rare. When you own a Dogwood guitar, you own something made by humans hands, not robots. Something fine that can be passed down to the next generation, after giving you a lifetime of pleasure.