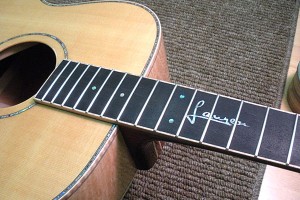 One of the most beautiful customizations to a musical instrument is the addition of shell inlay. Typically this might include peghead decorations, fretboard position markers or more elaborate motifs such as vines and flowers, and body purflings. Virtually any surface of the guitar can receive an inlay although for tonal reasons inlays to the Spruce top are usually limited to the sound hole rosette and body purfling.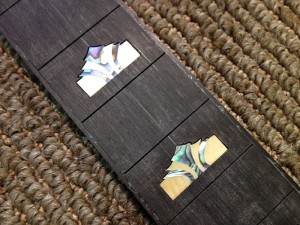 Cutting and inlaying shell such as Mother of Pearl or Abalone requires great skill and is one of the most difficult techniques in guitar making to execute with precision. A handful of individuals make a full time living cutting pearl. Dogwood Guitars is proud to offer custom inlay as part of our spectrum of services. Inlay is not inexpensive but the results are always worth it!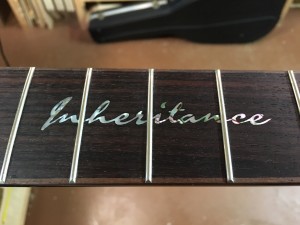 Please contact Greg to discuss your ideas for a custom inlay on your Dogwood guitar, or to have inlay work performed on your instrument. Any inquiries for inlaying your design must include an actual size image file which may need to be resized for correct placement and fret clearance. This is necessary to determine the time and pearl cost so that a quote can be given. PLEASE NOTE: Fretboards can not be inlaid with frets in place. If you require inlay work on a completed neck, a refret will be required as part of the quote. The cost of the refret is $350.