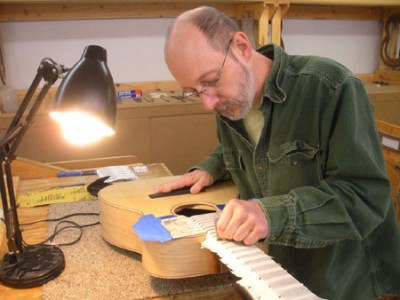 I've lived in central Ohio my entire life, and I've built things for as long as I can remember. I cut my teeth as a woodworker doing fancy interior wood trim for a custom home builder in the early 80's after deciding that performing music for a living wasn't something I wanted to do for the rest of my life. I had worked as a singer/songwriter in a duo since graduating from high school in 1975.
I began making furniture in 1983 and was immediately drawn to building high end pieces. I had little interest in making nick knacks and bread boxes. I studied the furniture that challenged and intrigued me and taught myself to design and build them. I've built custom architecture for restored cathedrals, and reproduced European masterpieces for discriminating clients.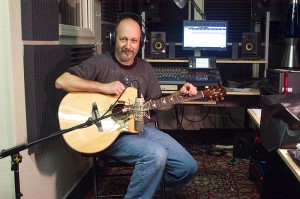 Although I no longer perform for a living, I still have a passion for guitars! Like most players, I started on an inexpensive Japanese guitar that sounded pretty good for what it was. As I grew older I wanted more… more tone, and nicer looking instruments than I had in my 20's. I've owned all the major brands and still have some in my small collection of guitars. I thought they were as good as it gets, but to be honest none of them really sounded exceptional to me. I started trying to find out what makes a great sounding guitar, and this led me to enrolling in luthier school at Galloup Guitars in Big Rapids, Michigan. In addition to graduating with one of the highest scores my instructor had ever given out, I also took an advanced Voicing class. That is where I really found what I was searching for! The method developed at Galloup for voicing and tuning guitar tone is cutting edge and is now a part of all Dogwood instruments.
In 2012 my wife and I relocated to Grandview, MO to be a part of the International House of Prayer (IHOP) missionary community. One of the purposes in moving the business to Kansas City was to offer affordable and experienced setup and repair services on both acoustic and electric guitars to the staff, students, and interns at IHOP. After five wonderful years in Kansas City, in August of 2017 we relocated back to central Ohio to be closer to family, including a growing number of grand kids.
I work alone in my small shop in Mount Vernon, Ohio. There, Dogwood guitars are carefully crafted using carefully selected wood and materials. My goal is to build guitars for you that I would want to own myself… works of art that sound as good as they look. I also perform all manner of repair and setup services, from fine tuning new instruments to full restoration of vintage guitars. I can make any guitar play better!