The Mazzaroth Guitar, Special Edition of the Eminence Model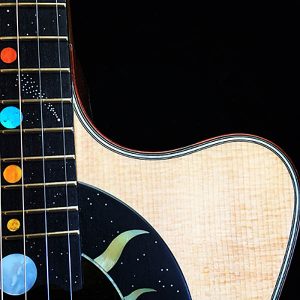 This fine instrument is the culmination of an idea I had in the 1970's after seeing a guitar that luthier Steve Klein made for Dan Peek, founding member of the group America. Inspired by the beautiful astronomical motiffs inlaid into Peek's guitar, I wanted to design my own version. Along the way, I discovered the Mazzaroth – the ancient term for the parade of constellations that make an annual orbit around our planet. The ancient Hebrews believed these constellations told the story of God's dealings with man, from dawn of time through the glorious Messianic age to come.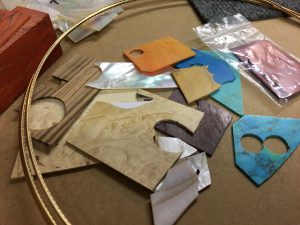 I gathered special materials for the construction of the guitar, including beautifully colored gold mother of pearl, reconstituted stone, engraved Waverly tuning machines, and a stunning Cocobolo back and side set. Work on the guitar took over a year to complete.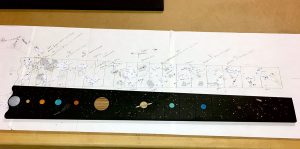 The fretboard is inlaid with most of the major constellations of the northern hemisphere, using real star charts as patterns. A comet, and a spiral galaxy cut from Abalone shell, are included. The planets of our solar system are inlaid as fret position markers. The soundhole rosette is an Ebony field inlaid with gold pearl sun flames and the constellations of The Mazzaroth.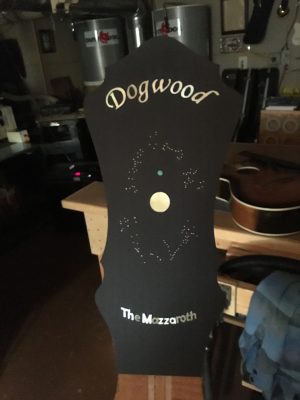 A miniature representation of the sun, Earth, and the Mazzaroth constellations are inlaid into the peghead, and the back of the peghead is veneered with rich Walnut burl wood. Gold pearl purflings border the top, back, and sides of the body as well as the sides of the neck and around the border of the peghead.
No expense was spared in the design and construction of this museum-quality guitar. As my customers know, tone always comes first and this guitar is no exception. A high-scoring top was used for this special build, and the instrument was voiced and tuned to specific target resonances for clear, pure tone with great projection. I have decided to make this design a special limited edition of the Eminence model. You will never see anything quite like it!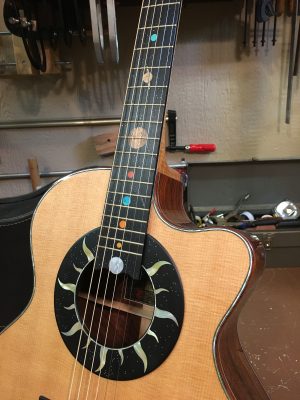 For a complete pictorial of the building process and more details about the design and planning of this guitar, please visit my Facebook Photo Gallery, The Mazzaroth Guitar.
This special Edition guitar may be ordered by contacting me via the Contact page. I have several back and side sets reserved for this special edition. Several colors of shell purflings are available to make your Mazzaroth a one-of-a-kind masterpiece. Please expect 12+ months lead time for delivery. A hard shell case is included in the price.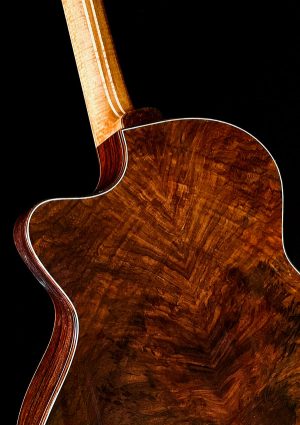 Special Features:
Presentation Grade back and side set
Cutaway body
Shell purflings – body, neck, peghead
Planet Inlays
Constellation inlays
Mazzaroth rosette with shell flames
Custom Mazzaroth peghead inlays
Custom label
Flamed Mahogany and Maple neck
Engraved gold Waverly tuning machines
Evo Gold fretwire
Walnut burl rear peghead veneer
Special high-scoring select Sitka top
Price: $12000