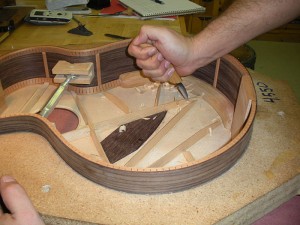 Voicing and tuning are important elements of great tone. A great guitar has great tone, great playability, and great craftsmanship in that order. Fancy wood, a high gloss finish, and lots of Abalone inlay are visually beautiful but have nothing to do with making a great sounding guitar.
What is voicing and tuning? In a nutshell, voicing is the process of building a guitar using carefully made decisions and techniques with the goal of shaping the tone in a specific direction. Tuning relates to the fundamental resonances and purity of the tone.
There are as many theories about how to voice a guitar as there are builders, it seems. Some try to achieve it through scalloping the braces or sanding the Spruce top to a special flexibility. Many insist that it is the species of wood that makes all the difference. Others experiment with different bracing materials and patterns. Many luthiers tap on Spruce plates as they carve the braces, listening for the type of ring and sustain that they feel will give the right sound to the completed guitar. These ideas all have their place, but many of them are arbitrary and others don't hold up in real life. We've all heard guitars of the same brand, made of the same species of wood, that sound very different from each other.
I've had more than one hand builder tell me that mystery is part of the process and each build is somewhat like a roll of the dice. I strongly disagree with these types of statements. By carefully selecting tops with specific material properties and tuning the top and back during the building process, guitars with consistent balance and clarity are produced. And consistency is key, not only because customers want to know that their guitar will sound great but also because consistency demonstrates that the luthier is voicing with repeatable skill and not just getting lucky every once in a while!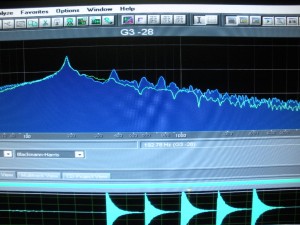 Dogwood Guitars uses a cutting edge, computer-assisted voicing and tuning method that begins with selecting top wood having certain material properties. These select tops are thinned during the building process to a specific deflection based on modulus (strength) rather than an arbitrary thickness dimension based on flexing or species. By choosing to work with top wood that falls within a narrow range of mass and stiffness, consistent tonal characteristics can be built into each guitar. Further, this process permits great control in shaping tone to the needs of individual players.  To a lesser degree, choosing back and side woods species will shape the voice of the guitar. Body shape and size and other design elements also impact the instrument's voice.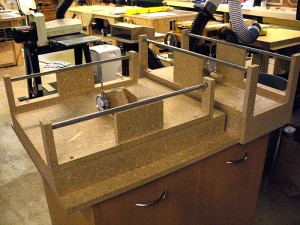 Tuning is achieved by adjusting the fundamental resonances and purity of tap tones by carving the braces. The fundamental resonances of the top, back, and air all have an effect on the tone of the guitar. By tuning these resonances to specific targets, the builder can control the bass response of the guitar while avoiding 'wolf notes' that cause dead spots.
Voicing and tuning combine to form what we refer to as the tone of the guitar. A top that falls within a narrow range of stiffness and weight, thinned to the right deflection based on its individual modulus (measure of strength), and braced to allow good transfer of the string energy into sound, will produce what most players would agree on as great tone. Whether this happens by luck or by skill, the result is a highly responsive instrument that comes alive when you play it. Failure to incorporate one or more of these elements into a guitar will usually result in something that falls sonically between "not very good" and "pretty good." To my ear, this describes the majority of modern factory guitars regardless of brand; many handmade guitars also come up short of great tone although certainly some of the latter are excellent. Many guitar players seem willing to trade exceptional tone for outward beauty. However, it is possible (and desirable) to have both stunning beauty and great tone.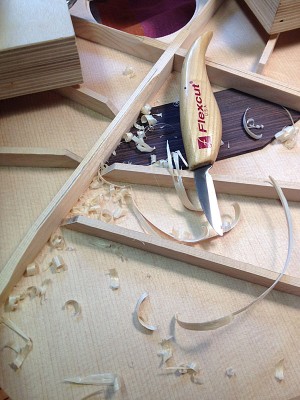 The final part of this voicing method involves using software to analyze tap tones during the brace carving process for the top and back. Each of these is tuned to a specific fundamental resonance, with a balanced pure tone over the surface of the plate, verified by the software analysis. Further, the back and top are tuned to work together so that the entire guitar comes alive when played. You will immediately hear the difference in clarity, balance, and response. And because I am currently one of only a very few builders in the United States using this method, you can expect exceptional tone from my guitars, tone and responsiveness that can be elusive to find with any consistency.
For those players who want the very best in tone and know it when they hear it, owning an individually voiced instrument is essential.  No major factory brand today grades tops for material properties or individually voices their instruments; Martin stopped individually voicing guitars in the 1940's. Warm bass, fat chiming treble, and great clarity describe the Dogwood sound. It's what an acoustic guitar should sound like, and why I say… "Old School Tone, Down to the Bone!"
Check out my YouTube video discussing the importance of top wood properties: