Superb craftsmanship and exceptional tone are reflected in every handmade Dogwood guitar. Whether you are a singer-songwriter looking for an articulate instrument to express your creativity, or are part of a country band or a worship team and need a guitar with clarity and balance to cut through the mix, there is a Dogwood guitar with your name on it.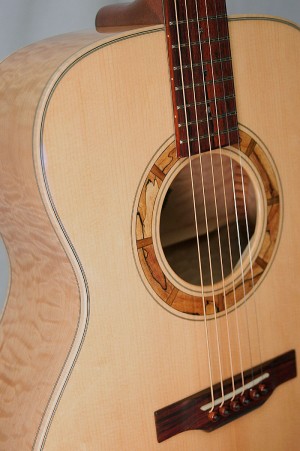 Dogwood guitars exude quality from the inside out. All solid wood construction, five piece laminated Mahogany and Maple necks, wood bindings, bound fretboards, hand cut Pearl or Abalone logo inlay, and hand leveled and dressed frets are just some of the features you will find on all Dogwood models. Greg will work with you to customize your design, making your guitar a one-of-a-kind instrument that reflects your individuality as a musician. Custom rosettes, shell purflings, custom fretboard inlay work, and other personal choices you'll make combine with the unique Dogwood peghead and matching bridge to complete your dream guitar.
Of course, all the high gloss lacquer finishes and fancy inlays in the world don't make up for less than exceptional tone. And here is where each Dogwood guitar really shines. Every Dogwood guitar begins with a carefully tested and graded top. By carefully measuring the material properties of potential tops (properties such as modulus, mass, speed of sound, etc) Greg is able to match the right top with your style and tonal preferences. These select tops are enhanced by tuning the top and back on each guitar to specific target resonances, producing great clarity, balance, warmth, and responsiveness.
Greg takes time with each customer to determine his or her needs and desires, and then carefully crafts each guitar by hand. No CNC made parts or lasers used! Just a master craftsman, fine woods, well-worn tools, and a passion for guitars. Why not give Greg a call or send an email and begin the discussion? It will be one of the best decisions you will make as a guitar player.