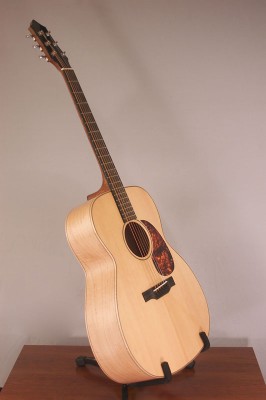 Most guitar players start out on a cheaply made factory guitar. I did, back in the 1970's.
I went out the day after I graduated from high school and used the money I had received at my open house party to buy a Japanese-made Ibanez six string at my local music store. Back in those days, the imports were better in quality than most are today, but it was still a relatively inexpensive guitar made from laminated wood. I had learned to play on an even cheaper classical guitar, so this was my first steel string. I am sure that many players my age and older have a similar story. I loved the Ibanez and made a living off of it for several years.
Any experienced player will tell you that one of the worst things a parent can do for an aspiring young player is to go out and buy them an inexpensive guitar. A basic but well-made factory acoustic guitar is going to have between $300-$500 worth of materials alone: Back, side and top wood; a decent piece of Spruce for the top, interior bracing, binding, bridge, nut, and saddle; neck, fretboard, frets, tuners… whew! There is a lot that goes into a guitar.
What kind of instrument are we going to get when we pay $329.00 retail for it (including some kind of "gig bag" to keep it in)? You can answer that for yourself; it will the kind of difficult-to-play, poor sounding box that drives many would-be players away from practicing. No practicing means no proficiency, and that means no fun. Then after the guitar collects dust for a while, you try to sell it and find out that is has almost zero resell value.
The obvious solution to this frequently repeated cycle is to invest in a better quality instrument. Such a guitar will sound good, will play as well as any quality guitar regardless of price, and will tend to hold a decent resell value should you ever choose to part with it. There is also a greater tendency to stick with something if there has been an investment made to obtain it. Several options are available to the potential buyer of a good first instrument, including looking at nice used guitars from brand name manufacturers. Don't fall into the common trap of buying for the lowest price and ending up with something that can barely qualify as a musical instrument!
I have purposely not mentioned electric guitars as a first choice. There are several reasons why I feel that an acoustic guitar is the better guitar to learn on. One of the biggest is that too many younger players simply learn to make noise on an electric. Now before you label me as an old fart with a grudge against loud music, let me assure you that I love rock and roll! I am an old Beatles, The Who, Zeppelin, and Petty fan and I like my rock loud, just like most everyone. But I am also an old CSN&Y, America, and Eagles fan. The point is, my opinion about a beginner's guitar is not shaped by a musical bias but rather by my experiences over the years with many young players who can't really play all that well but who can just make a lot of noise.
An acoustic guitar must be played well to sound good; you can't hide buzzing strings from poorly fingered chords behind a wall of distortion like you can with an electric guitar that sizzles and pops with the slightest touch. I can't tell you how many younger electric guitarists that I have met and played with who can't do much when you hand them an acoustic. True, the acoustic will take a little longer to master and the player will need to develop some calluses on the fingertips. But in the end, he or she will really learn to play well and will also be able to transition to electric playing with little difficulty. You usually can't say the same for the player who has learned on an electric guitar.
Whether you choose to buy new or used, acoustic or electric, have the guitar setup by a qualified luthier so that it plays as easily as possible. You may be surprised to learn that even a brand new factory guitar probably needs a setup to play at its best. Factories send out new instruments with higher-than-necessary playing action to avoid returns for string buzzing. This is especially true for electric guitars with bolt-on necks (Fender Strats, Teles, etc.) that usually have poor setups and need fret work. As a general rule, I suggest planning on spending $50-$125 above the purchase price for a good setup and possibly having the frets dressed. Don't allow the music store tech to do this work, bring your new guitar to a luthier who will make it really sing!