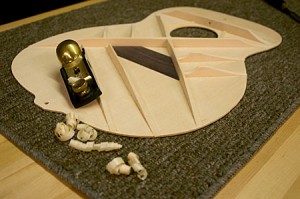 Guitar buyers and collectors have so many choices available to them. New, used, factory brands, hand built…how do you narrow down the choices to the best option for you?
In my opinion, any guitar should be measured by three characteristics: Tone, playability, and appearance. I list these in order of priority. While all three should be excellent, many players go for the eye candy first. But first and foremost a guitar must have great tone to be a great guitar. Abalone trim, perfectly machined parts, and a mirror-like gloss finish have nothing to do with the tone of an instrument. And to get the best from a great sounding guitar, the playability (action) must be buttery smooth. Let's look briefly at these three characteristics.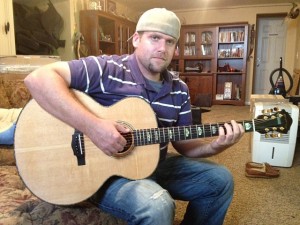 When discussing tone, we must be willing to be brutally honest. Most players tend to validate their guitar buying choices by convincing themselves that their guitar has wonderful tone. Buyers tend to repeat (or at least believe) the claims that nearly all factory brands make in their advertising copy about the amazing tone that their guitars have. The hard truth is that modern factory guitars are mass produced in large numbers, making it virtually impossible to individually voice the instruments or select tops with exceptional tonal qualities (and the top is where the majority of the tone originates). For these and other reasons, Dogwood guitars will outperform factory brands. Underneath all the bling, a guitar is wood, physics, and geometry. A handmade Dogwood is superior in all three of these areas… and still has the bling too!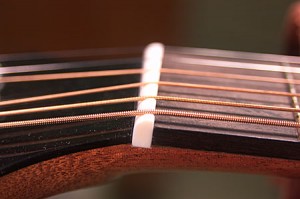 Let's talk about playability. I often make the claim that I can make virtually any guitar play better, including brand new factory made guitars. The substance behind this claim is the fact that most factory brands are shipped with less than perfect setups due to unknown variables in handling and storage and to prevent warranty claims for buzzing strings. Some are better than others but most are sent out with excess relief (up bow) in the neck and slightly high action at the nut and saddle. So universal is this practice that most players and store techs accept excess neck relief as normal. True experts such as nationally known repairman Dan Earlewine almost always set up guitars with very straight necks. To play at its best, any guitar should have a straight neck, level frets, and the correct action at the nut and saddle. Dogwood guitar receive a fret dressing (level, crown, and polish) as part of the final setup; most factory-made guitars do not. A correctly set up guitar with truly level frets and a flat neck and low action is easy and enjoyable to play. If such a guitar is treated properly and kept within the appropriate humidity range, it will play with ease and will not have any fret buzzing.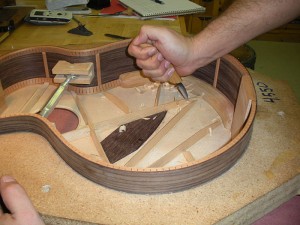 Dogwood Tone: Why it is superior
So what do you get when you buy a Dogwood Guitar? To begin, your guitar will have a top that has measured within a narrow range for stiffness-to-weight ratio using software verification. These select tops, along with the backs, are voiced and tuned to specific resonances using a combination of ear and software.This is key! No factory brand (and certainly not all custom builders) measure the material properties of their tops. They sort tops based on species and appearance, which has little or nothing to do with stiffness and weight. This is why you can play seemingly identical brand name guitars and get different tone from each one. Because I individually thin my tops to a deflection, rather than a pre-determined thickness, my tops are lower in mass and more responsive. Factory brands take all guitar tops to a predetermined thickness for that species of wood, and usually make them too thick and brace them too heavily. This increases mass and damps responsiveness. There is no comparison in the tone and responsiveness of a handmade guitar crafted with skilled hands, and a guitar-shaped object mass produced in a factory.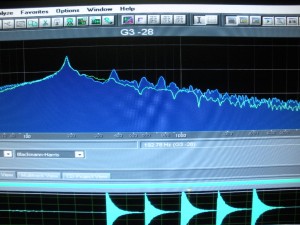 The Dogwood tuning and voicing method is verified by FFT analysis software. One huge benefit of this method is consistency. The use of software reduces guesswork and the subjectivity of the human ear when voicing tops and backs. I've had more than one luthier tell me that building guitars is a roll of the dice and you never really know how they will sound until they are done. I don't think that buyers of handmade instruments want that sort of mystery!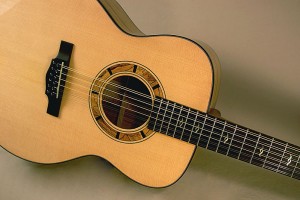 Of course, Dogwood guitars are well-made and aesthetically beautiful. Different species of back and side woods are in stock, including figured Maple, Mahogany, Myrtle, Walnut, and of course Indian Rosewood. Dogwood necks are carved from laminated solid Mahogany with Maple stringers. All Dogwood guitars receive a hand-rubbed high gloss lacquer finish. Many options are available including Abalone shell body purflings and custom inlay work. Dogwood Guitars come with a lifetime warranty for the original owner.
Are you ready to sound better? Compare your current acoustic to a Dogwood and you will hear the difference in clarity, balance, responsiveness, and volume. Please contact Greg to discuss your dream guitar, and why choosing a Dogwood will prove to be a great decision for you.
Dogwood Guitars: "Old School Tone… Down to the Bone."